Latest updates
May 2022 - Our Future Hospital receives funding for next steps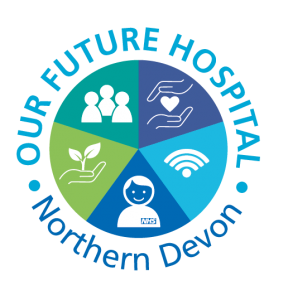 The Our Future Hospital team are pleased to share the confirmation of funding from the national New Hospital Programme (NHP) to support the next steps of the work we are undertaking to redevelop North Devon District Hospital (NDDH).
This means the Our Future Hospital programme team, who are leading this work, can continue to develop our plans for the first phase of the programme.
This includes a review of our on-site accommodation for clinical staff. A detailed survey of the NDDH estate has highlighted the ageing condition of the current buildings, which are more than 40 years old.
Plans to rebuild the accommodation to provide new, fit-for purpose facilities were included as part of the programme's 'Strategic Outline Case'.
This was the first formal document of a series that we will have to submit to the national programme, and outlines our vision for a new NDDH which has facilities capable of providing modern and digitally connected care to meet the healthcare needs of the local population. As part of this, the new staff accommodation will support the Royal Devon's aims to attract staff and become a great place to work.
The OFH team is now reviewing its plans for phase one and developing options within the funding available. We are also progressing our work to develop our plans for additional phases and this includes preparing for the next stage of the journey towards national approval.
April 2022 - NDDH Accessibility Survey
The Our Future Hospital Programme recently ran a survey in the local community looking at the accessibility of North Devon District Hospital (NDDH), its services and facilities. As the programme is an opportunity to redevelop the acute hospital site, the survey was designed to help highlight areas that patients and visitors considered open for improvement.
Over 500 surveys were completed, with more than 1000 comments and suggestions as to how we can improve our hospital.
We had lots of feedback on the following themes:
parking, in particular lack of disabled parking
congestion and lack of seating areas at our main entrance drop-off area
lack of seating around the hospital
general signage – including suggestions for pictorial and colour-coded signage – to help with navigation on site.
This feedback will be used to influence how we develop the hospital site and you can find out more about the survey and its results here: OFH-Accessibility-survey-feedback
March 2022 - New CT scanning suite paves the way for the Trust's Our Future Hospital programme
Patients in North Devon now have access to some of the very latest diagnostic equipment in the UK. Last summer, two new CT (computed tomography) scanners opened at North Devon District Hospital (NDDH) in Barnstaple. A new scanning suite was built as part of this.
Dr Sarah Johnson, Consultant Radiologist and Associate Medical Director at Northern Devon Healthcare NHS Trust, said: "I am absolutely thrilled that both scanners are now up and running, which will help us provide better and quicker care to our patients.
"Our team have done a fantastic job to create an environment that supports an excellent patient experience. Some people can feel nervous or anxious about having a CT scan, and the team have made the space feel light and airy, and as welcoming as possible."
What's next for NDDH?
The new scanning suite is a great example of the quality of work that the Trust is hoping to do on a wider scale across NDDH through being included in the Government's New Hospital Programme. This is a strategic long-term programme of investment to ensure our healthcare system, and its staff, has the world-class facilities it needs for the future.
NDDH is one of 40 hospitals selected for investment, and Zahara Hyde, Our Future Hospital Programme Director, said: "The Trust's Our Future Hospital programme team is working closely with the Department of Health and Social Care and NHS England and Improvement to develop plans to develop new facilities and modernise areas of the existing hospital to support the delivery of fit for future services, providing right care in the right place for our local population."
Following business case approval later this year, works to the hospital will be scheduled for completion in the latter half of the decade.
So what could we look forward to? Highlights of the new CT scanning suite include:
Facilities developed to the highest specification
Bright, light modern spaces
An environment designed with patient experience and patient flow in mind
Improved working areas for staff
State of the art CT scanning equipment
Improved working areas
Bright new CT scanning suite reception
November 2021 - Help us to shape the future of North Devon District Hospital by taking part in an accessibility survey
North Devon District Hospital (NDDH) has been chosen for major investment as part of the Government's New Hospital Programme aimed at providing better care for patients and improved working environments for staff.
This is an incredible opportunity to redevelop the existing hospital site to ensure it meets the needs of our local community.
Previous engagement has highlighted the importance of accessibility within the hospital, and the Our Future Hospital team is interested in finding out more about patient, carer and visitor experiences of access to the hospital, its services and facilities.
If you would like to help shape the future of the hospital and the development of the site and its buildings to the best they can be, please take part in our short survey and share with your networks.
This survey is now closed, however you can still share your views and experiences on the accessibility of NDDH and its services – whether patient focused or personal by emailing: ndht.ourfuturehospital@nhs.net
July 2021 - Our Future Hospital programme reaches first milestone
Our response to being included in the Government's New Hospital Programme – Our Future Hospital – has reached a really important milestone.
The 'Strategic Outline Case' or 'SOC' – a formal document which outlines our ambitions and opportunities for redeveloping the North Devon District Hospital site – has been supported by the joint Trust Board. The SOC will now be shared with our colleagues at NHS England and NHS Improvement (NHSEI), as well as the Department of Health & Social Care (DHSC).
To support the development of the SOC, we've engaged with staff, patients, partners and our community in a number of ways, including meetings, staff drop-ins and updates through our newsletter and on social media. This included a survey earlier this year, where we asked for views on the future of healthcare. More than 500 patients, public and staff responded.
The next stage of the programme will be to look at the work done so far in more detail and refine our plans for redeveloping NDDH.  This work will be pulled together into another formal document – the Outline Business Case (OBC). We will be coming out to talk to people again during this phase and will keep you updated about engagement opportunities.
In the meantime, please continue to let us know what you think of our five ambitions for the programme.
February 2021 - What does the future of healthcare in Northern Devon look like to you?
(Please note this survey has now closed)
As patients and residents in the local community, Northern Devon Healthcare NHS Trust (NDHT) is inviting you to have your say on the future of healthcare in North Devon and Torridge by completing the Our Future Hospital survey.
Our Future Hospital is the Trust's response to North Devon District Hospital (NDDH) being selected as one of 40 hospitals included in the Government's New Hospital Programme (NHP) formerly HIP2.
This is an important vote of commitment for our community and represents an incredible opportunity to bid for new investment to redevelop NDDH and modernise our buildings and technology.
We are working with staff and clinicians across the Trust and Devon healthcare system to develop our approach to future care – and we need your help.
It's really important that our local community and are involved in setting our shared ambitions and we want to find out more about what the future of healthcare in Northern Devon looks like to you.
The Our Future Hospital survey is an opportunity to share your views and help shape healthcare services for your community in the future.