Honiton Hospital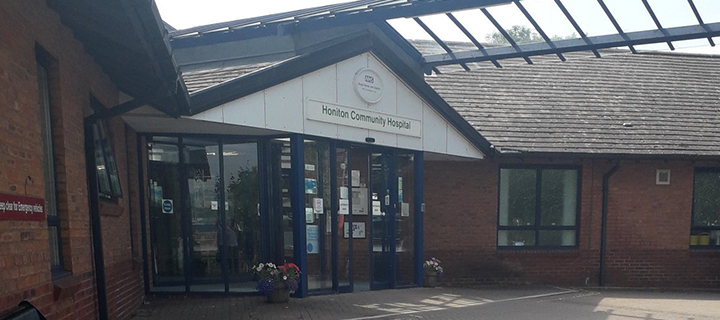 Honiton is one of the Royal Devon's community hospitals. These smaller hospitals offer a range of services to provide care locally.
This includes a Minor Injuries Unit (MIU), along with an extensive range of out-patient and health and social community services.
More about us
Honiton Hospital provides a wide range of hospital and community based services to the local and surrounding community. These include:
An extensive range of Outpatient Clinics
Health and Social Community Services
Minor Injuries Unit
X-ray department
Physiotherapy/Musculoskeletal/Extended Scope Physiotherapy Services
Maternity – antenatal/postnatal
East Devon Kidney Unit
FORCE (Outreach Chemotherapy) runs one day a week from Honiton. This Service also provides a valuable counselling Service.
Outpatient clinics include:
Abdominal Aortic Aneurysm screening
Audiology
Bladder & Bowel/Stoma
General Surgery/Vascular
Cardiology/Heart Failure/Respiratory
Child Health Dieticians
Diabetic Screening
Dental
Gynaecology
Leg Ulcer
Neurology
Orthoptist
Parkinsons
Podiatry
Rheumatology
Child and Adolescent Mental Health Service/Talkworks
These services enable our patients to be cared for in their own homes and local community, by our multi-disciplinary teams.
We have strong links with our Primary Care colleagues and are well supported by our Honiton League of Friends and other voluntary organisations.
The hospital is fully wheelchair accessible.
Honiton Surgery is located on the same site.
Opening times
There are no medical inpatient beds at Honiton Hospital but we offer a range of services and clinics to help care for people in their community.
Getting here
The hospital's address and postcode is:
Honiton Hospital
Marlpits Lane
Honiton
EX14 2DE
If possible, we encourage people to use public transport and other sustainable means of travel. 
We are easily accessible by local bus routes.
We are situated next to Honiton train station. 
For help planning your journey please see the following websites:
Limited car parking is also available.
Facilities
A hot drinks machine and water machines are available, as well as a League of Friends confectionery shop.